Pulsed Ion-Beam Evaporation (IBE)
When an intense pulsed ion beam is irradiated on a solid target, its energy is deposited within a very shallow volume near the target surface. This energy is transformed into the thermal energy of the target material, where high-density ablation plasma is produced. The natural expansion of the plasma forms a plume of the ablated material which, on the surface of a substrate, can be deposited to prepare various thin films. This method of thin-film preparation was originally developed by this institute, named as "Intense Pulsed Ion-Beam Evaporation" (IBE).
Principle of Intense Pulsed Ion-Beam Evaporation (IBE)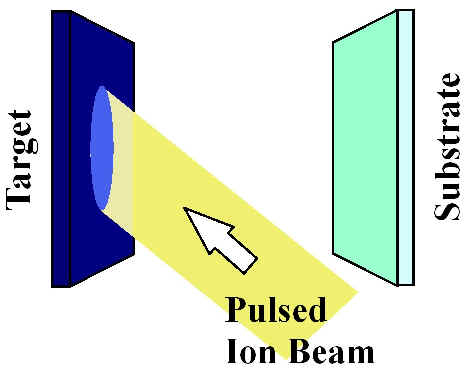 (a) Ion beam irradiation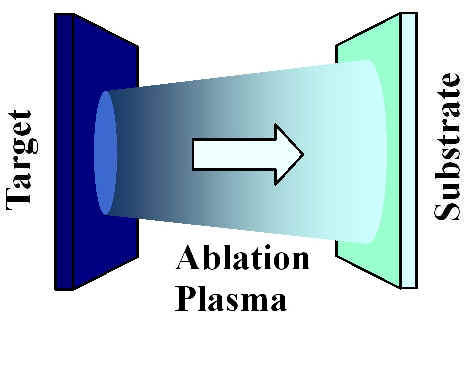 (b) Ablation plasma expansion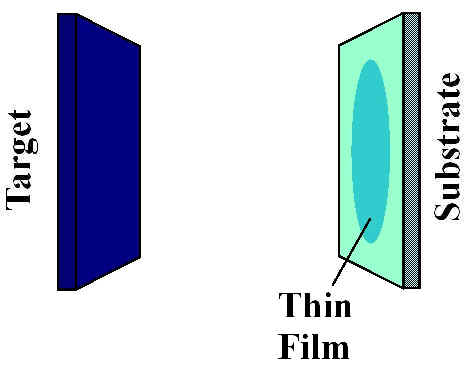 (c) Thin film deposition
Typical thin film obtained by IBE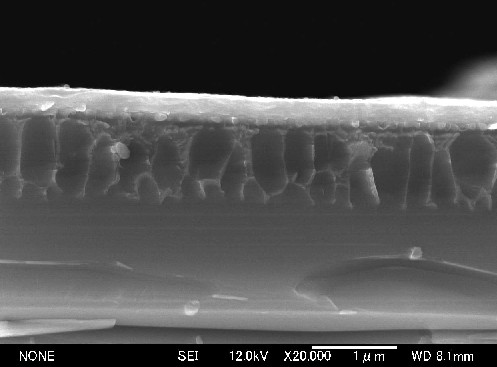 IBE has been studied for more than ten years in this institute. Various thin films have been successfully prepared by using IBE, including electro-luminescent material (ZnS:Mn), dielectric material ((Sr, Ba)TiO3), hard coatings (B12+xC3-x), superconductors (YBa2Cu3O7-d), phosphorescent thin films (SrAl2O4:Eu,Dy), hydrogen storage material (TiFe), polycrystalline silicon for solar panel applications, and Si-Ge thin film with compositional gradience. These materials are of very wide industrial interests and are developed with collaboration from many industrial partners.
Thin film with compositional gradience of Si-Ge deposited by IBE