Generation of High-Power Microwaves
Pulsed high-power microwave generation is studied by using virtual cathode oscillator (vircator). Investigations have been carried out by both experiments and numerical simulations, with emphasis on physics of beam-microwave interaction and improvement of microwave efficiency. New vircator configurations have been proposed and studied by using repetitive pulsed power generator "ETIGO-IV" and three-dimensional particle-in-cell simulation code "MAGIC". The results have given maximum beam-to-microwave conversion efficiency of ~ 10 %, which shows not only a significant improvement over previous results but also the potential for practical application of vircator. This work is a collaborative research with Asian Office of Aerospace Research and Development (AOARD).
New configuration of virtual cathode oscillator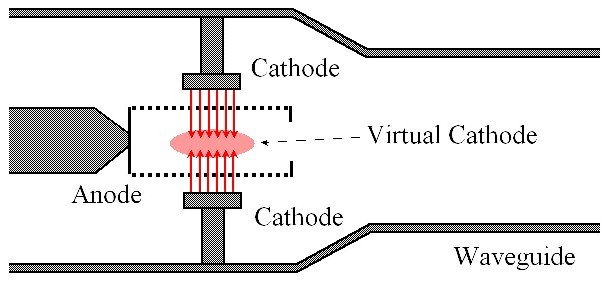 Map of electrons obtained by simulation code "MAGIC"