International Symposium on Global Multidisciplinary Engineering 2011(S-GME2011)
SYMPOSIUM PERIOD
■SYMPOSIUM PERIOD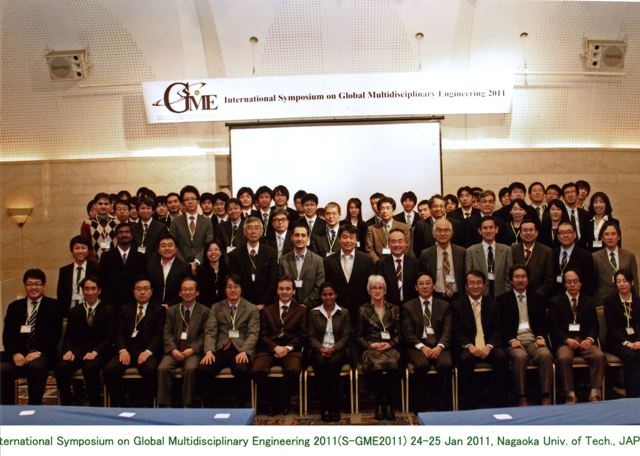 全体写真
January 24 (Mon) ~ January 25 (Tue), 2011
★24th(Mon): HOTEL The New Otani Nagaoka
★25th(Tue): Nagaoka University of Technology Lecture Room E/F     
Oral Session
: 24th:HOTEL The New Otani Nagaoka (Room Haku-cho) / 25th:Lecture Room E/F     
Poster Session
: 24th:HOTEL The New Otani Nagaoka     
Welcome Party
: 24th:HOTEL The New Otani Nagaoka(Room Kashiwa)
■Program
Final program (uploaded on 1/17)
International Symposium on Global Multidisciplinary Engineering 2010(S-GME2010)
SYMPOSIUM PERIOD
■SYMPOSIUM PERIOD
March 13 (Sat) ~ March 14 (Sun), 2010
Nagaoka University of Technology, Nagaoka, JAPAN
Oral Session : Center for Multimedia System
Poster Session : SECOM Hall
Welcome Party : SECOM Hall
■Program
Program will be fixed on 21th Feb. Final program (uploaded on 3/12)
■Important Dates
Deadline of the abstract submission is Feb 10, 2010
Deadline of the Paper submission is March 14, 2010
■Abstract Submission
Abstract form is here ABSTRACT FORM Please send the Abstract to s_gme2010@yahoo.co.jp by MS-Word form.
---
Paper Submission
This symposium paper will be published from IOP Conference Series: Materials Science and Engineering (MSE). Paper format is here IOP Journal Format. Also, please check the IOP homepage. Please send the Paper to A3nagaoka@yahoo.co.jp by E-mail until 7th March 2010 (Also, On site submission desk will open at conference site. Please submit your paper with USB memory or DVD media.).
---
Co-Chairs
Yoshiharu MUTO Nagaoka University of Technology, Japan
Shigeharu KAMADO Nagaoka University of Technology, Japan
Takayuki KOMATSU Nagaoka University of Technology, Japan
Koichi NIIHARA Nagaoka University of Technology, Japan
---